Online Storage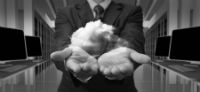 Why Cloud?
Big or small, businesses manage a significant amount of valuable information. It takes only a second for a computer or server to crash, taking hundreds of dollars of data with it.
By going Tolar you won't be worried about server failures or technical problems. Our Cloud Storage is simple, affordable and comprehensive. Data is managed and protected, and even in the case of a crisis, you can relax.
Cloud Storage Perks
Premium protection against data loss.
Data can be updated monthly, weekly or even daily.
Data is automatically synced from your computers to your/our servers.
Cloud services are scalable, making them cost-effective for everyone.
Tolar Power
Our proven expertise in delivering reliable IT services allows our clients to operate with extreme confidence in their technology. We recommend the appropriate solution to every customer regardless of our short-term benefit. We believe that by treating our customers' business as our own, we will prosper together.