Emergency Communications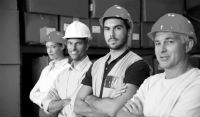 Planning for emergency communications helps your team overcome the long-term impact of an event.
The ability to communicate is something most of us take for granted, and this is never more true than in an emergency. For a business undergoing an emergency situation, the response in the first few hours will determine the long-term impact of the event. Without prompt communication to the appropriate people, the situation will continue to deteriorate.
Emergency communications should include everything that is required to restore critical services, such as voice and data, as well as communications required to execute operations during the emergency. Whether your mode of emergency communications is VSAT, Iridium, Inmarsat, or two-way radio, quality and timely communications are critical for protecting your company. We can help you find the correct solution.
Tolar Power
Our proven expertise in delivering reliable IT services allows our clients to operate with extreme confidence in their technology. We recommend the appropriate solution to every customer regardless of our short-term benefit. We believe that by treating our customers' business as our own, we will prosper together.