Understanding Bring Your Own Device
Mobile Strategies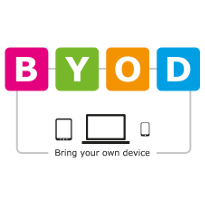 According to a study by Microsoft, over 67% of employees at surveyed companies bring their devices to work, regardless of their company's policy. Based on this statistic, it would seem as if a Bring Your Own Device strategy would be a no-brainer, but there are many other variables to consider.
The challenges with BYOD lie in the difficulty of developing a clear policy when questions of ownership and control are not always clear. Who owns the device and the data on it? Who controls how the device and data can be used? Who's in charge of the device's security, and what happens when employees join or leave the company?
For example, when an employee leaves a company, network administrators who are in charge of protecting company data would prefer that the devices used by those employees be wiped clean of all data - work related and otherwise - to protect the business' proprietary data. Employees, on the other hand, usually prefer to remove the company data on their own than have their personal device wiped clean, because they want to protect their personal data. For reasons like this, establishing a BYOD policy is not a cut and dry matter.
BYOD Policy Considerations
To design a BYOD policy that works for your company, you will have to determine:
What data and resources you're trying to protect,
Which employees have access to those resources,
What security measures are appropriate to take in each instance?
Consider how your employees are using their devices and how they benefit your organization. For many employees, the ability to access their work data, documents and other tools - even email - is indispensable for productivity. For others, it may not be.
You also need to understand the threats personal mobile devices can pose to your business. When your data is accessible from anywhere, it can be accessed by people outside your organization also, without proper security measures. Breaches of sensitive data could cost your business thousands of dollars, jeopardize your customer relationships, or even put you out of business.
Tolar Systems can help you balance and manage these risks. We offer mobile device management solutions for companies that want to increase productivity by using their mobile devices to work from anywhere. These tools and infrastructure deliver confidence that your data is accessible to those who need it, yet protected against the risk of unauthorized access.
Developing a BYOD Policy
Tools like mobile device management aren't all your business needs to protect itself. A policy that governs the use of personal mobile devices - called an Acceptable Use Policy - is also important This policy governs what content is available to people on your network. This policy is created with the best interest of the organization in mind, implemented by the network administrator, and policed to the extent required by your organization. In this policy you are able to set forth what is off limits to the end users.
The IT professionals at Tolar Systems can help. We provide valuable knowledge about risks and best practices to guard against them so that you can make informed decisions about what content to block or make accessible, balancing the need to maximize productivity with the need to protect personal and company data.
Our team will help you look at your BYOD needs from multiple perspectives and develop a policy that adresses them all. Questions we'll work with you to answer include:
1. Which devices will be permitted on the network?
2. How will we maintain network and device security?
3. Can outside devices access data on the network?
4. Who owns the various types of data on each mobile device?
5. What actions can outside devices take on the network?
6. How do your BYOD strategy and acceptable use strategy work together?
7. How are users onboarded and removed to ensure security of business information?
Tolar Systems will work with your team to answer these quesitons and develop a BYOD policy that ensures maximum productivity while protecting sensitive data. To learn more about how we can help your organization leverage technology to benefit your business while minimizing risk, including mobile device management and IT strategy consulting, contact us today at .