Understanding the Internet of Things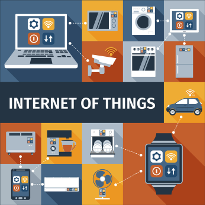 As technology touches more corners of our lives, more devices than ever before will be connected to the internet – together, these connected devices make up the "Internet of Things," or IOT. According to Gartner, Inc, a technology research organization, there might be close to 26 billion devices connected to the Internet of Things by 2020. They include everything from mobile devices, printers and wireless cameras, to your fitness wearable or smartwatch. Even coffee pots are becoming internet-connected!
If you don't completely understand what makes up the Internet of Things, you can't adequately protect your business from the challenging new security vulnerabilities it might bring along with it. Thankfully, you don't have to go it alone. Tolar Systems can help you adjust to what promises to be a huge change for businesses and individuals everywhere.
What is the Internet of Things (IoT)?
And what does it mean for your business?
According to Gartner's IT glossary, the Internet of Things is, "the network of physical objects that contain embedded technology to communicate and sense or interact with their internal states or the external environment." In other words, devices that can connect to the Internet will eventually be able to influence both themselves and the environment around them by using their Internet connection.
Your business must prepare for the avalanche of new devices which will soon be able to work across a network. Some of these devices may bring benefits to your business; others present a viable threat It's important to make sure your business is poised to take advantage while protecting your networks and data.
Protect Your Business's Network Security
More devices means more network access points.
Network security is a must for every business, large or small, since your network and technology infrastructure are what allow your business to communicate with customers and manage mission-critical business information. Keeping them secure should be a top priority whether the IOT poses a viable threat, or not. Keeping your network secure and infrastructure safe from hackers involves keeping all of your operating systems up to date, and patching vulnerabilities in your applications.
However, in the age of the IoT this is actually quite challenging, as more devices are added to your network. How will you manage having perhaps dozens of connected devices added to your network for every employee? How will you protect your network from unauthorized access by these devices?
Tolar Systems can help protect your business from these threats and vulnerabilities.
Reinforce Your BYOD Strategy
Adopt mobile security best-practices.
Maximizing your network security will only get you so far when it comes to managing IOT-related threats. As more devices connect to the Internet, employees will be bringing more technology to the office with them. Each must follow proper security procedures in order to minimize vulnerable access points.
Tolar Systems offers mobile device management solutions to help your business discern the good devices and applications from the bad. We can also limit which applications have access to sensitive or confidential data on personal or work devices. It's an ideal solution to augment your current BYOD policy, if you have one in place.
For more information about how Tolar Systems can help your business prepare for the Internet of Things, contact us today. We can assess your network security and BYOD policies, and show you how to move forward in an IOT-enabled world.