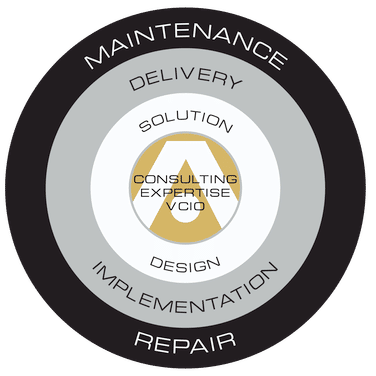 Tolar Systems Managed IT Services in Texas
Information Technology is one of the biggest challenges facing all types of businesses today, yet many companies simply don't have the time, expertise, or resources to maintain systems and head off problems before they happen. That's why so many companies take a "break-fix" approach to their IT needs. After all, why spend money on IT when things are working?
Unfortunately, the break-fix approach could actually be costing your business time and money. Time is lost when systems break and you're unable to be productive. Money is lost when you're forced to replace systems that, with proper maintenance and support, could have served your business much longer. In the worst cases, you may even be losing customers and business opportunities when IT issues mean you can't deliver on your promises.
Get a free consultation
Break Away From Break – Fix
Tolar Systems' Complete Care packages help your Texas company break away from break-fix. We help you eliminate lost time and money spent handling IT problems. Tolar listens carefully to your needs and recommends the tools and managed IT services you need to do business more efficiently and effectively, and provides ongoing maintenance and IT support to ensure that your solutions deliver maximum value to your business, wherever it's located.
Be Proactive with Complete Care
Tolar Systems Complete Care isn't just about fixing problems: it's about managing, monitoring, identifying and preventing issues BEFORE they happen. Whether it's preventing a security vulnerability today, or helping you determine a strategy to navigate change tomorrow, your Complete Care consultants can help you make better technology decisions that save time and money.
Complete Care delivers the services of an internal IT department, but more efficiently and at a fraction of the cost. With Complete Care, you'll have the right tools to focus on your business, and the comfort of knowing that your technology has the support it needs to deliver results for your Texas business 24 hours a day, 7 days a week.
How We Work
Every Tolar Systems engagement begins with a free consultation to understand how you're using technology today, how you're hoping to use it in the future, what works well now, and what may not be working with your IT.
The information we gather helps us customize managed IT services that meet your business' unique technical needs. We can help you increase collaboration within your office, as well as with partners, vendors, and customers. We help transform how your organization communicates via email, calendaring and mobile. And we can help ensure your data is safe with secure cloud hosting that enhances employee and client communications and delivers secure access to your data from any location and device.
Oil and Gas
Texas Oil and Gas companies rely on technology to be efficient and productive, yet it can be difficult to get reliable technology support when problems arise. Whether you're in E&P, a service industry, a profession (geology, engineering), a supply house, or the trades, Tolar Systems managed IT services help prevent problems before they happen. Whether you need data management, communications, servers, cloud resources, connectivity, bandwidth, backups, or overall system security, Tolar Systems can help keep your business running smoothly — with the best service team both in Texas and across the nation.
Non-Profit Organizations
Tolar helps nonprofit organizations across the US leverage their technology investments to improve workflow, collaborate more easily and serve their constituency more effectively – without downtime and lost productivity. We offer customizable managed IT services to support your unique technical needs, whether you need network and security support, email and collaboration tools, shared calendaring, or other tools– it's like having an entire IT department when you need it, but without the high cost and inefficiency.
Small and Medium Businesses
With the right technology and tools, small and medium-sized businesses in Texas and across the US can compete effectively with companies of any size – but it takes reliable IT support to make it happen. Tolar systems can help. We offer customizable IT services, from project-based services to Complete Care, to meet your Texas company's unique technical needs. With us, you get the support you'd expect from an internal IT department, at a drastically reduced cost.