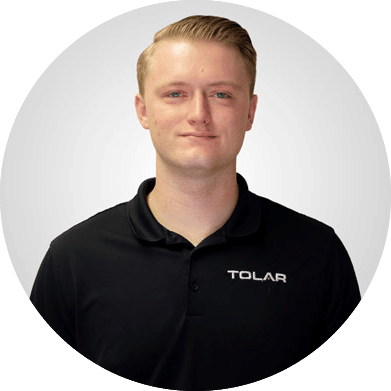 Kyle Guthrie is the newest member of Tolar Systems' team and this month's employee spotlight. He is a Level I Technician and Inventory Specialist.
When you purchase equipment from Tolar, Kyle is our awesome technician that ensures you get exactly what you ordered. You may also see Kyle onsite implementing Tolar's technology standards or completing a project.
Here's a little more about Kyle:
What major life milestone have you reached lately?
I just got married to my beautiful wife Anika and got out of the Air Force after 4 years.
What interests you about the technology industry?
How advanced and rapidly evolving it is. It is a constant challenge to keep up with it.
What do you like most about your job?
I love learning something new every day, and Tolar Systems has a very nice work environment, which I find extremely refreshing.
What is your favorite movie?
The Fast and the Furious: Tokyo Drift
What gets you out of bed in the morning?
Usually my two cats and my dog will let me know when it's time to wake up because they are ready for breakfast, but really I'm just excited to finally be in the career of my choice.
What is your motto or personal mantra?
If you want something, you have to go and get it/Nothing is handed to you; you have to work for it.
What is your guilty pleasure?
Trying new whiskey, working on cars, and binge-watching Netflix.