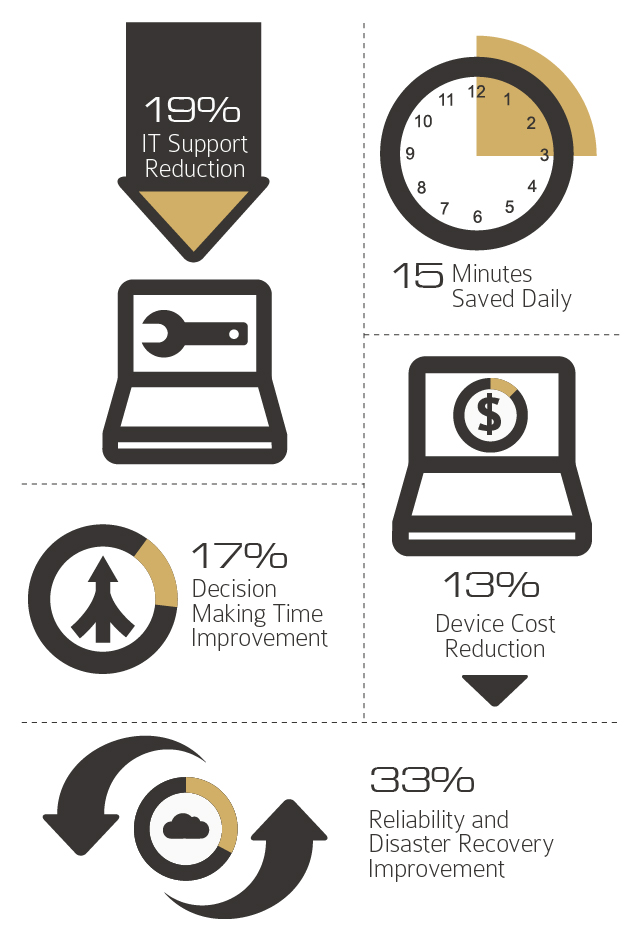 Tolar Systems has been a Microsoft partner since 2012. We recommend Microsoft products, particularly Microsoft 365, for many of our customers.
These products deliver benefits including collaboration, sharing and efficiency. However, it can be difficult for many small businesses to measure the results they are getting. That's why Microsoft recently commissioned Forrester Research to do exactly that.
Forrester's Microsoft 365 Survey
Forrester surveyed over 200 small businesses that had previously been running their applications on-premises (i.e., installed on a local server or desktop, not cloud based). The study focused on email and productivity tools along with web-based solutions for collaboration and file sharing.
Forrester asked about 200 survey participants questions about the productivity improvements they had experienced using Microsoft 365. They then gathered these responses, along with 4 in-depth interviews. This information allowed Forrester to create a "composite customer."
Prior to installing Microsoft 365, the composite customers had the following characteristics:
Average 90 employees and 35 user licenses
Experiencing rapid growth
Owners sometimes doubling as IT support. These companies were not large enough to necessarily support a full-time IT staff, but they did have significant connectivity and collaboration needs. These needs were not addressed by the solutions that were in place previously. They needed tools that would be easy to administer – preferably cloud-based, to minimize administrative requirements on the customer end – and that were flexible enough to grow with them.
Microsoft 365 Small Business Benefits
After installing Microsoft 365, Forrester found that these companies experienced multiple benefits.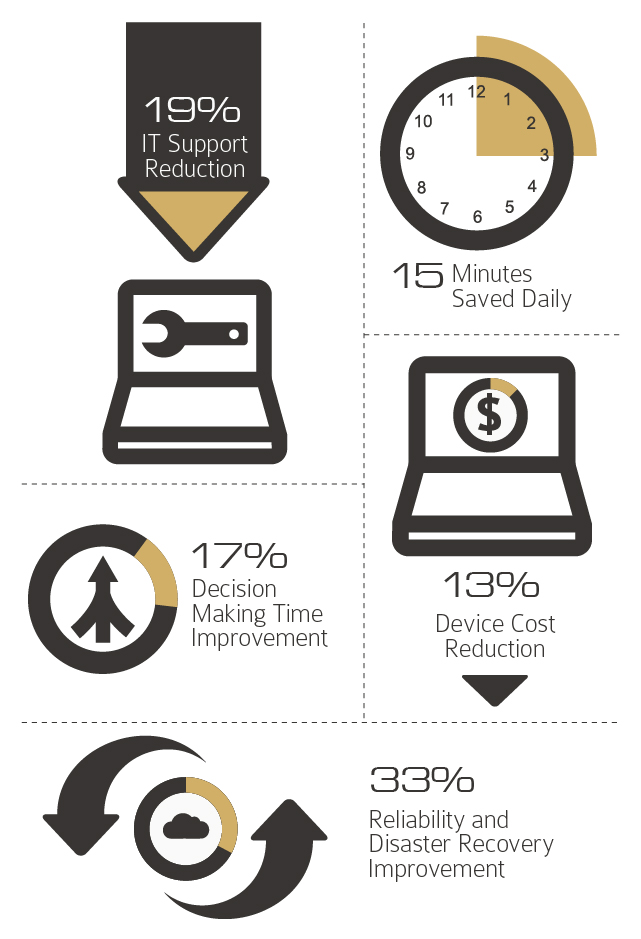 19% reduction in IT support effort
According to Forrester, "Because Microsoft 365 is a cloud product and most SMBs choose to employ a partner to oversee its implementation and ongoing management, they can reduce their IT support effort."
This is consistent with what Tolar Systems has observed with our clients – in a recent case study, Tolar client Merritt, McLane and Hamby, P.C., stated that it had experienced productivity improvements of approximately 20% due to the reduction in time they were spending dealing with IT issues.
15 minutes saved daily
Customers reported a 15 minute reduction in the time it took the average mobile worker to access, share, and sync files while on the road. This equates to a savings of one hour and 15 minutes per worker per week – or 45 hours a year per worker. This is significant for small businesses.
17% improvement in decision making time
Better organization and document control in SharePoint improved customers ability to store, manage, and update critical organizational documents in a reliable, central location with appropriate permissions. This resulted in better access to the information needed to support decisions.
13% reduction in device costs
Because Microsoft 365 is cloud-based, it can run on almost any device – device compatibility isn't an issue. Employees are able to use older desktops, laptops or tablets, as well as personal mobile devices, to access information and stay productive with Microsoft 365.
33% improvement in reliability and disaster recovery
You can access Microsoft 365 from anywhere with a working internet connection. Microsoft maintains multiple fail-overs and redundancies so it's always available. If the power goes out or your business is hit by any other disaster, your employees can still log in and continue working. Said one customer, "if I have 20 employees and they go down for 2 hours, then you can map out that impact."
Customers also saw a significant benefit with regard to business continuity. One customer said, "Microsoft 365 is hugely redundant; I don't have to have a way to move everything to a disaster recovery location. Our disaster recovery location could be the nearest coffee shop."
Forrester identified numerous other advantages of Microsoft 365 to small businesses as well. We recommend reading the full report to learn more.