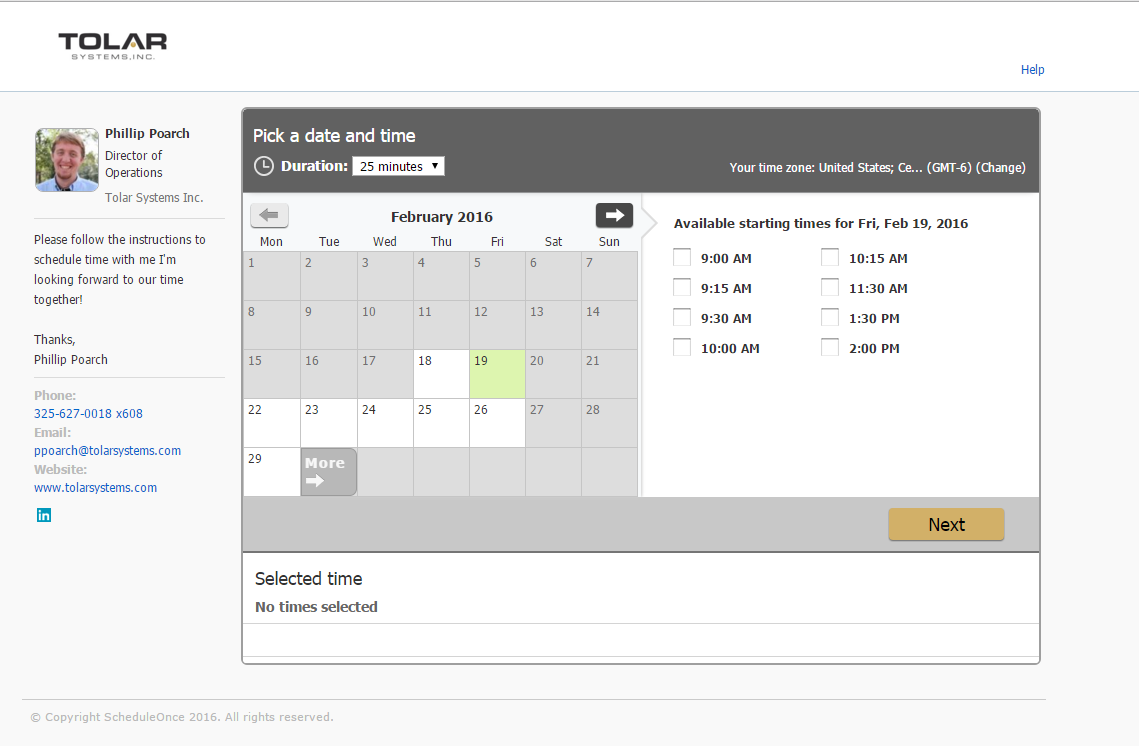 Wasting time? Scheduling conflicts? Try automated scheduling tools.
As a technology consulting firm that talks to a lot of small business owners and executives, one common complaint we hear frequently is that meeting scheduling is, quite frankly, a pain. Trying to set meetings and arrange schedules with other people is one of the biggest time wasters in any business. In fact, like most of our readers, we've experienced this ourselves.
Since this is a big problem for a lot of people in the business world, there are a lot of different opinions about how to solve the issue of scheduling. One of the approaches we like is the Tim Ferriss approach, which basically involves taking control of your schedule and not letting it control you.
4 Hour Workweek? The Tim Ferriss Approach
According to Ferriss, you should not spend productive time doing unproductive activities. And let's face it: calling or emailing back and forth to schedule meetings is one of the most unproductive activities there is. Not only does the scheduling itself not produce anything tangible, once you've scheduled the meeting you're not in the clear because meetings are always subject to change depending on each person's schedule. Once you do schedule, there's also the risk that the meeting itself won't be productive.
No wonder so many business people hate meetings! Yet, if you're in a business that works with other people, or depends on others for results, meetings are a necessary fact of life.
How We Saved Time with Automated Scheduling
We're a solutions oriented company, so we set out to see if we could solve this problem. We're also a technology company – so naturally we looked to the world of technology for answers.
Enter automated scheduling tools. This is a technology space that is exploding, as people become more and more dependent on online calendars such as their Outlook, iCal or Google calendars to plan their day.
There are more than a dozen alternatives in the automated scheduling space. What these tools essentially do is allow people who want to meet to access each other's calendars online. They can visualize schedules and select a time that works best for them to meet.
Obviously, the challenge here is that a certain amount of interoperability between calendar apps is desirable, but not all scheduling tools are interoperable with all calendars. The best option is to select the one that works with your own application, but doesn't overly limit options for those you want to meet with. In other words, you should choose a scheduling application that is compatible with the majority of tools your clients, customers or other business partners might be using.
All About ScheduleOnce
The one we've decided to use is called ScheduleOnce. We're a Microsoft partner, so for us, any scheduling tool we might choose has to be compatible with Microsoft Outlook. ScheduleOnce "plays" very nicely with Outlook, it's also compatible with Google Calendars, and it is very cost-effective with a low $5 per user/month fee.
It's also very easy to use. With ScheduleOnce, you simply send a link to people with whom you want to schedule a meeting. They click on the link and it shows them times when you are available. They simply select the one that works for them, and ScheduleOnce schedules the appointment in both calendar applications.
Some of our team members have used ScheduleOnce for about 60 days, and we estimate that it has saved them as many as 5 hours a week trying to arrange meetings. We've even been able to use it to schedule large groups, setting up meetings with as many as 100 individual end users.
Some of the features we like include:
The ability to set specific availability for meeting times.
Multiple meeting option times, allowing clients to choose what works best for them.
Custom forms for sign up that allows either us or the other party to determine topics and meeting location. This can help eliminate wasteful, "agenda-less" meetings.
For a consulting business like ours, it's an extremely effective tool, and one that we think could work for many of our clients as well.
We'd like to hear from you. How do you resolve your issues around scheduling? Leave us a comment on LinkedIn or Facebook.