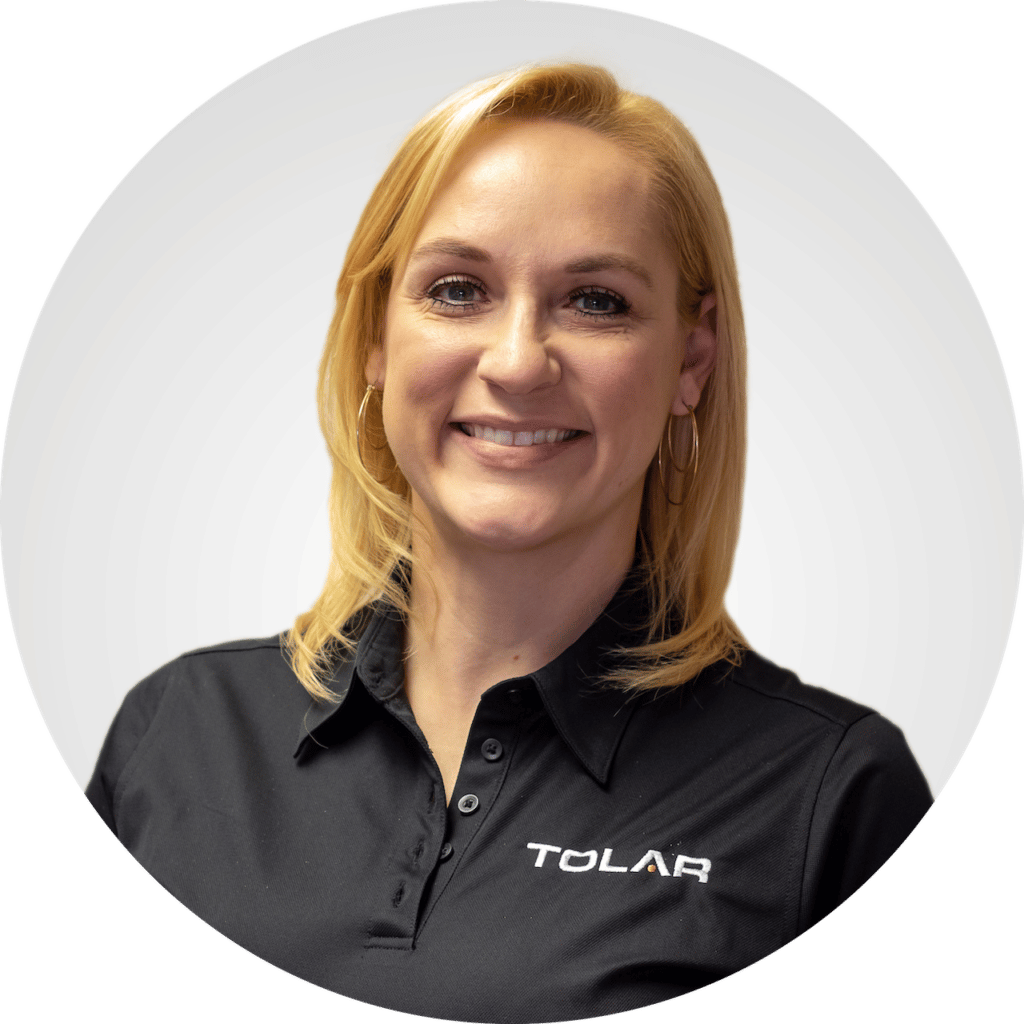 This month's employee spotlight is our Service Manager, Amy Bailey. She has a hand in nearly every stage of our operations at Tolar Systems.
As part of her role, Amy manages the technicians, makes sure boards and tasks are running smoothly, and ensures our team provides top-notch customer service to our clients. She's always here when our technicians need assistance, help, or just a listening ear.
She also takes the lead with monitoring our clients' accounts to keep them safe from phishing and hacking attempts, as well as in teaching clients how to keep their businesses secure by taking the best safety precautions.
You can reach out to Amy if you have a question about security, what measures we take to ensure the security of your business, or if you have a praise or complaint about one of our technicians or the way any of our staff conducted business.
To get to know her better, here are some questions we asked Amy about her life, interests, and goals:
What major life milestone have you reached lately?
In August 2019, I completed my Bachelor of Science in Business Administration. This was a major accomplishment for me, as it has been a goal I have wanted to achieve for many years now. I delayed going back to college for many years due to raising a family and focusing on that. However, last August I was finally able to obtain that degree that I had always wanted, which made me very proud.
What interests you about the technology industry?
The technology industry is pretty fascinating. There are so many moving parts and so many details to this industry. So many people need assistance when it comes to the details of this industry, and it is nice to be a part of a team that can assist and help people when they need it. Since technology is constantly changing and updating, it is so wonderful to get to be on the front lines of that and see all the new and amazing things that are constantly coming to our field and our industry.
What do you like most about your job?
I think what I like most about my job is what I touched on above: it is getting to help people who are in need. There's nothing better than the relief you hear in someone's voice when you have helped them solve a problem they were having before you assisted them. I also really enjoy the team of people that I work with, and the environment that we have as a work family.
What's your favorite movie?
My favorite movie of all time is probably Top Gun. I have loved this movie ever since I was a young child, and have continued to watch it over and over through the years.
What gets you out of bed in the morning?
I would say there are two things that get me out of bed each morning. One would be just being an honorable person and sticking with the commitment I made to this company. On those mornings when I am exhausted and want to just roll back over and hide away under the covers, I remember the commitment that I made to my bosses who put faith and trust in me to be responsible when they hired me. I don't take that commitment lightly, as I always want to be a person of integrity and someone they feel good about entrusting with the responsibilities they have put in my hands. The other thing that gets me out of bed is my kids. I also made a commitment to them that I would help provide for them, and I want to be a good example to them to be the type of person that persists in commitment and shows them how to be responsible, reliable, dependable, and accountable.
What is your motto or personal mantra?
I've been through a lot of hard things in my life and had to learn a lot of hard lessons that ultimately led me to be stronger and a better person. So I would say the best mantra that fits me is, "I'm thankful for my struggle because without it I wouldn't have stumbled across my strength."
What is your guilty pleasure?
My guilty pleasures would probably include having a nice cold beer, eating chips and salsa late at night, and watching reality TV series that I am probably getting too old to watch and enjoy, but I do anyway!