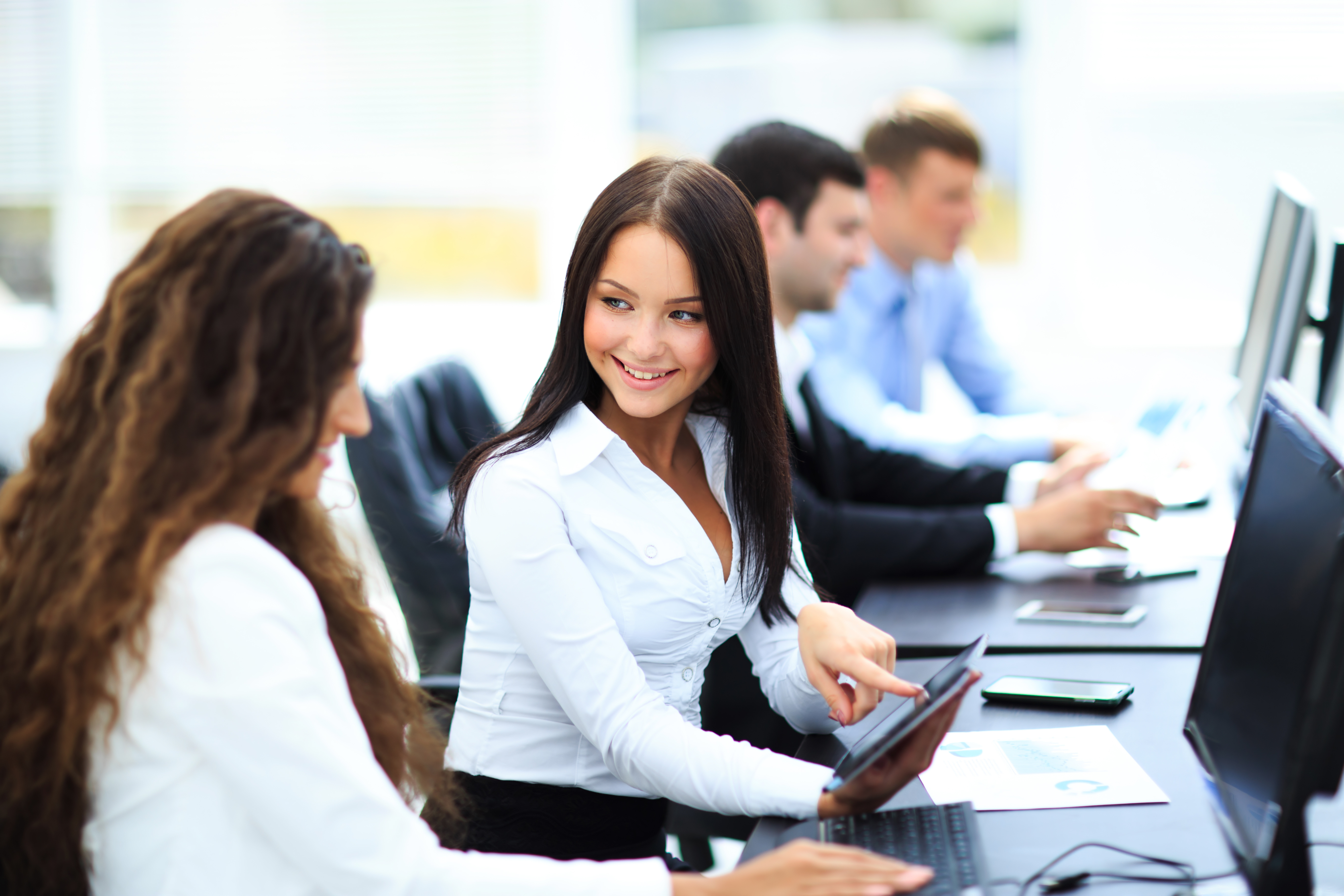 From law firms and doctor's offices to school districts and city governments, every organization shares the need to work more efficiently, to increase productivity, and to have the best resources for their employees. If your business is seeking to maximize performance, Microsoft 365 provides the tools to help you do it.
Microsoft 365 is offered by subscription. For enterprise users, the subscription fee includes email and software benefits for as little as $20 per user, per month. The subscription also allows users to download the application onto up to five personal devices, so you can use the same applications on your tablet, desktop, laptop or mobile phone. Microsoft 365 is compatible with Windows 7, 8 and 10, as well as Mac OS X (10.5.8 and higher). When you purchase Microsoft 365, all Office productivity applications are included: Word, Excel, PowerPoint, Outlook, Publisher, OneNote, and Access.
Many users ask how using Microsoft 365 differs from what they might have used before, and what makes it better than other versions of Office?
Here are five reasons why we think Microsoft 365 is a big step forward for your business.
Lower overall cost. This cloud subscription model of Microsoft 365 works a bit differently than Office applications you may have used previously. It doesn't require the purchase of a license, or downloading and installing the software on your computer. It runs "in the cloud" and you subscribe to use the software. There are several advantages to this; one of the most important is that it can run on any device with a working Internet connection. You don't need to worry about upgrading your equipment to use it.
Real-time communication. Microsoft 365 offers real-time communication with Skype for Business. If you are in the middle of a phone conversation with a customer and need to find out some quick information from a co-worker, use your Skype for Business account to send an instant message. You could have your answer within seconds. Skype for Business also offers screen sharing and video conferencing, so it's easy to collaborate or even get assistance with a technical problem you may be facing. In addition, 60 minutes per month of Skype calling is included with your Microsoft 365 subscription.
Automatic software updates. Another major benefit Microsoft 365 offers is real-time application updates. There is no longer any need to search for updates for any of the web-based applications in order to stay current. The updates will happen automatically and without any interruption to your work; ensuring that your applications are running as efficiently as possible, without being interrupted by the need to restart your applications, or worse, your computer. Even better, because the applications are cloud-based, you don't have to worry about whether your devices are compatible with the latest updates. Tech support is also included in the subscription.
Simpler collaboration with teams. Outlook 365 makes collaborating with your team that much easier. In addition to all your cloud-based applications, you also get cloud-based storage with SharePoint. This allows anyone with the access and permissions to view your document within your company. You can simultaneously review documents together while making changes. SharePoint Online allows you to manage, share, and stay up to date on files and documents while keeping the team in sync.
Work where and when you want. Microsoft 365 is all about increasing your productivity, whether you're working from your home, your office, or on the road. It can accommodate your work, whether you need to work from home one day, or you want to get ahead on some projects while not in normal work hours. Microsoft 365 has the ability to be set up on up to 5 different devices. You can install Microsoft 365 on your phone, your Mac, your Windows computer, and even a tablet. You'll be able to work from anywhere at any time, and never lose access to your files with the include 1TB per user of cloud based storage.
There are other benefits too, such as branded email for business users that will allow you to provide a more consistent brand across all your communications, without the technical and financial investment that would be required to maintain your own email servers in-house.
All in all, if you're looking at upgrading or implementing the Office applications for your business or even personal use, you should strongly consider going with Microsoft 365. It just might be the solution you've been seeking to improve collaboration and productivity without excessive hardware and software costs.